Every January, the most talked about indie film festival in North America takes place and top filmmakers, celebrities, and influencers all converge upon Park City, Utah for award-winning storytelling and epic nighttime partying. With the recent popularity of book-to-screen adaptations, the festival has also become a can't-miss event for book lovers around the globe. This year's entries included adaptations of popular books Robert Kolker's LOST GIRLS, Joan Didion's THE LAST THING HE WANTED, Stephan Pastis's TIMMY FAILURE: MISTAKES WERE MADE, Gloria Steinem's MY LIFE ON THE ROAD, and Naoki Higashida's THE REASON I JUMP, as well as literature-related films SHIRLEY and SCARE ME and two Peter Pan retellings—WENDY and COME AWAY. Here's how I spent 48 bookish hours doing (mostly) bookish things at this year's Sundance Film Festival.
Friday, January 24, 2020
1pm
Land at SLC Airport. (Pro-tip 1: We went the first weekend because it's always the busiest and the BEST two days for parties and pop-ups. You've been warned). Catch our Lyft to Park City. Lyft was the official sponsor of Sundance this year, offering discount rides and a cushy lounge to hang out in on Main Street, as well as panels and parties throughout the weekend.
2pm
Arrive at the Sheraton Park City, the official Sundance headquarters hotel. We got super lucky to stay here since it's one of the best locations right next to Main Street where all the action happens (big thanks Will from Sundance Organization Lodging Services). Pick up press credentials and refuel in the Timber Bar and Restaurant while waiting for our room to open for check in.
4pm
Check in and change. Take photos outside in the snow for the 'gram and make Tik Tok videos for my socials, because if you didn't post it online were you really at Sundance? 🙂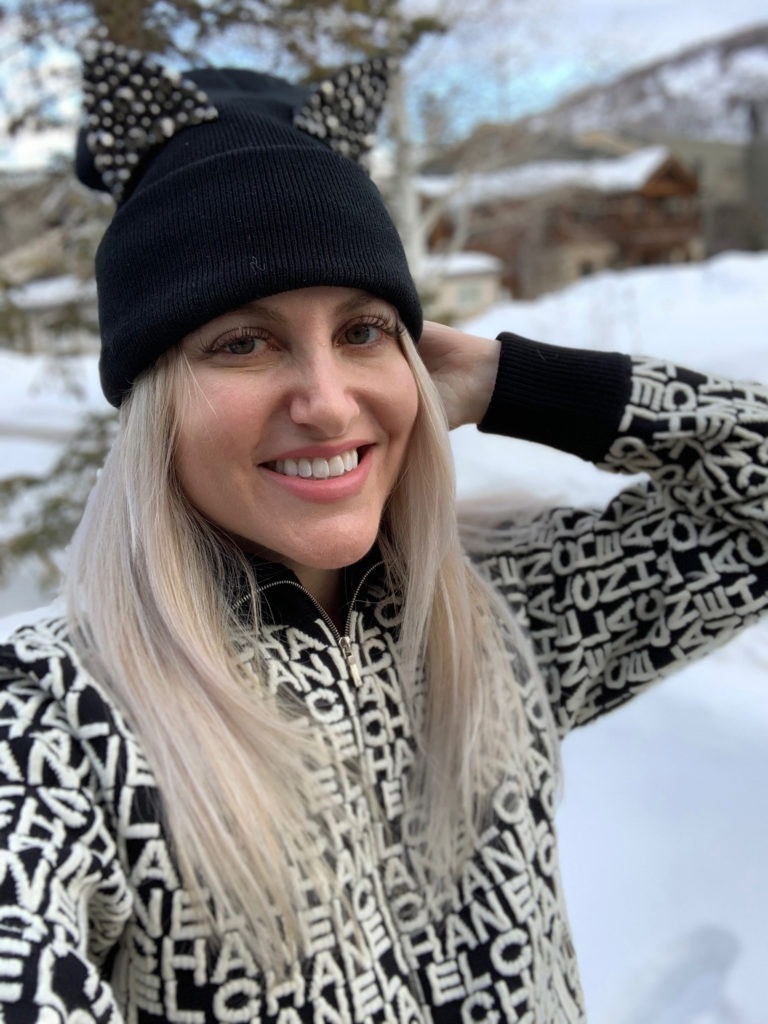 530pm
Back to hotel room to do a little work and rest up before our first big night on Main Street.
8pm
Head downtown for dinner at Boston pop-up restaurant Six West on Main Street. (Pro tip 2: If you want to eat out at Sundance, you'll need to book restaurants weeks, if not months, in advance. Unless you get really lucky with a walk-in or last minute cancellation, you'll otherwise have to survive solely on apps served at happy hours and film parties.) Food is fine and really fun atmosphere.
10pm
Head to our first party of the night at the WarnerMedia & AT&T Sundance Film Festival Kickoff Party. Hoping to catch a glimpse of Joe Keery who is in town for his new movie SPREE, but who we all know and love as Steve Harrington from STRANGER THINGS. Told they are already at capacity so we can't get in unless we're willing to wait in the snow and take our chances. We are not. (Pro tip 3: if you want to be assured entry, be the first one to arrive. The over crowding situation here is a real thing. David Arquette was quoted this year at the Acura Panel saying his favorite memory from the festival was "Trying to get into a party with 3 of your friends and nobody being able to get in anywhere.".)
1030pm
Arrive at Tao Nightclub's pop up even though doors didn't open until 11pm because this time we aren't taking any chances. They tell us to go next door for drinks because it's too cold to stand outside. Have so much fun next door we forget to show up at 11pm and are back waiting in a loooonnnngggg line again.
1130pm
Head inside Tao to begin our night. DJ Brody Jenner (who you may just know as THE HILLS Brody Jenner) is spinning. Great crowd. Open bar sponsored by Casamigos Tequila (thanks for the drinks, George Clooney!). See Post Malone. See Post Malone take photos with everyone in the club. Try to get a photo with Post Malone and have his bodyguard shoot me down. Forced to take a selfie with the back of Post Malone's head.
4am
Head home. Lose one of my friends in the parking lot to a private party at some mansion in Deer Valley. This is a common occurrence at the Festival so I don't worry. The rest of us go to bed.
Saturday, January 25, 2020
9am
Grab water and a Danish at the hotel Starbucks downstairs and get on Instagram  to post stories from the night before.
1030am
Head to local bookstore and coffee shop Atticus Coffee & Teahouse on Main Street to meetup with another local YA author and bookstagrammer Krysti from @Krystiyaandwine. The bookstore is small and crowded but still adorable and Krysti is as lovely in person as she is online.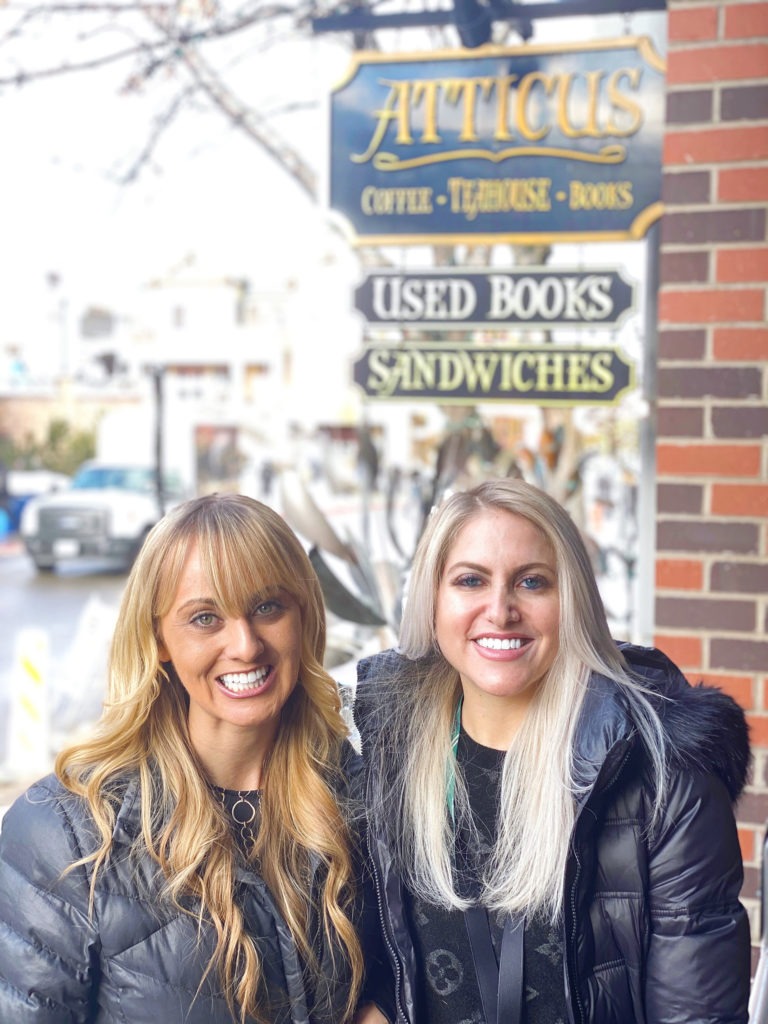 11am
Head to Entertainment Weekly x NRDC Sundance Film Festival panel THE GLORIAS with Julie Taymor to hear the uber impressive Taymor (seriously, go Google her) talk about her Sundance entry The Glorias, a film adaptation of icon feminist Gloria Steinem's memoir MY LIFE ON THE ROAD.
12pm
Head to the Audible pop-up and speakeasy on Main Street. They are giving out free s'mores, free drinks, and free audiobooks. So yeah, I would never leave if I didn't have other panels to get to today. Sigh.
1pm
Head to the official Sundance press room on Main Street to recharge my phone. Wind up sitting next to the cast of DINNER IN AMERICA, trying not to stare at Lea Thompson. Guys, she's so cute! And I will forever love BACK TO THE FUTURE.
2pm
Head to the WarnerMedia & AT&T Lodge for the TNT Presents SNOWPIERCER Panel to catch a sneak peak of the post-apocalyptic TV show premiering in May, based upon the French graphic novel. Blown away by how cool this show looks.  Get a photo with HAMILTON breakout actor and SNOWPIERCER star Daveed Diggs.
4pm
Arrrive at the stunnning UTA Sundance House for a girl-power panel "Is This Real? Sustaining Gender Equality in Entertainment" sponsored by  Women in Film and The Atlantic. Develop immediate girl crushes on every single one of the outstanding panelists: Haifaa al-Mansour, Effie T. Brown, Poppy Hanks, Sarah Harden, and Emily Mortimer. (For more on this panel and some inspirational takeaways, check out the article I wrote for SheWrites.com here.) After the panel, I fan girl all over Sarah Harden, the CEO of Hello Sunshine. Yes, THAT Hello Sunshine–the one founded by Reese Witherspoon that makes all your favorite Reese bookclub novels into movies.
6pm
Back to hotel to eat room service, nap, and change for the night.
11pm
Head to Bootsy Bellows pop-up. Even though we are on the media list we are told they are "already at capacity," but if we wait in the snow we will get in. This time we decide to wait. BIG MISTAKE. 30 minutes later and we still aren't in so we head to Tao again.
12am
Tao is even better tonight than the night before. Drew Taggert from the Chainsmokers shows up. Night made.
4am
Head home. Try to get some sleep before our early flights in the am.
Sunday, January 26, 2020
11am
Fly home. Sit on flight and have major FOMO that I didn't make it to any official movie screenings in the 48 hours I was in town. If I had more time, here's the list I made for SheReads.com of all the can't miss book adaptations screening at the festival.
SO WHAT WAS YOUR FAVORITE BOOKISH HOUR FROM MY SUNDANCE FILM FESTIVAL TRIP? WHAT MOVIE ARE YOU MOST LOOKING FORWARD TO? SHARE IN THE COMMENT SECTION BELOW.