The Sundance Film Festival in Park City is a perfect time to break out your faux fur, winter whites, and best Hollywood novels!

TABLE OF CONTENTS: Boots: Hunter; Faux fur jacket: Laundry by Shelli Segal; Faux fur boot cuffs & shawl: Royal Scout & Co
The Sundance Film Festival in Park City, Utah is a great place to see the slopes and the next great indie flick. Everyone knows animal cruelty and real fur are SO out of fashion so if you want to add a hint of glamour at the fest, faux fur is the ONLY way to go. These faux fur cuffs are the perfect way to spice up your Hunter boots (or any other boots) and this luxurious maxi shawl is both fabulous and affordable. You can grab them both from Royal Scout & Co's website and for a limited time only get 15% off your purchase when you use the special code: "royalrektokross".   And if you didn't make it out to Sundance this year, check out the list below of the best Hollywood novels that will transport you into a world of glamour.
The Best Hollywood Novels: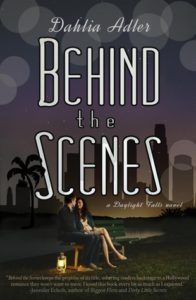 Behind the Scenes, Dahlia Adler (YA, Romance)
High school senior Ally Duncan's best friend may be the Vanessa Park – star of TV's hottest new teen drama – but Ally's not interested in following in her BFF's Hollywood footsteps until her father's mounting medical bills threaten to stop her dream in its tracks, Ally nabs a position as Van's on-set assistant to get the cash she needs. Spending the extra time with Van turns out to be fun, and getting to know her sexy co-star Liam is an added bonus.
Hollywood Wives, Jackie Collins (Adult, Romance)
Collins's  ninth novel, and her most successful, selling over 15 million copies. "Hollywood Wives" tells the stories of several women in Hollywood, ranging all the way from long-time talent agents and screenwriters to vivacious screen vixens and young, innocent newcomers. After the novel's international success, it was adapted as a television miniseries by producer Aaron Spelling that aired on ABC in February 1985. It was a ratings hit, and one of the most successful mini-series of the 1980s.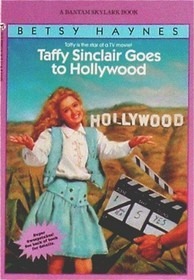 Taffy Sinclair Goes to Hollywood, Betsy Haynes (MG, Romance)
Taffy Sinclair from the popular middle grade series "The Fabulous Five" gets her own book! Taffy lands the starring role in a movie titled Nobody Like Tiffany Stafford. While Taffy's playing the part of the beautiful blond heroine, some of her co-stars become jealous, and she discovers that not all of the villains are in the script.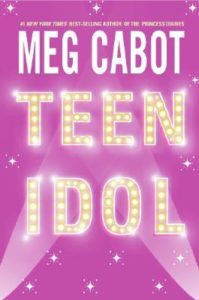 Teen Idol, Meg Cabot (YA, Romance)
High school junior Jenny Greenley is so good at keeping secrets that she's the school newspaper's anonymous advice columnist. She's so good at it that, when hotter-than-hot Hollywood star Luke Striker comes to her small town to research a role, Jenny is the one in charge of keeping his identity under wraps. But Luke doesn't make it easy, and soon everyone – the town, the paparazzi, and the tabloids alike – know his secret . . . and Jenny is caught right in the middle of all the chaos.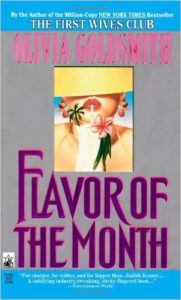 Flavor of the Month, Olivia Goldsmith (Adult, Romance)
Mary Jane Moran was an ambitious New York stage actress who lost the role of a lifetime and the one man she loved—all because Hollywood thought she was too plain and too old to star in the movies. But two years, forty pounds, sixty-seven thousand dollars, and a full round of nips, tucks, lipos, and implants later, the Broadway gypsy moth emerged a gorgeous butterfly with a new name and a new body and ripe for the big time. Now MJ and her two co-starlets-in-arms—ruthless L.A. native Lila Kyle and sweet Texas belle Sharleen Smith—are making their move on the West Coast.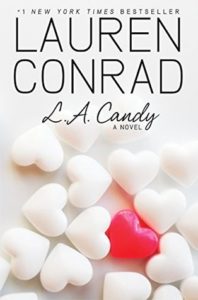 LA Candy, Lauren Conrad (NA, Romance)
Nineteen-year-old Jane Roberts can't wait to start living it up. She may be in L.A. for an internship, but Jane plans to play as hard as she works, and has enlisted her BFF Scarlett to join in the fun. When Jane and Scarlett are approached by a producer who wants them to be on his new series, a "reality version of Sex and the City," they can hardly believe their luck. Their own show? Yes, please! But in a city filled with people chasing after their dreams, it's not long before Jane wakes up to the reality that everyone wants something from her, and nothing is what it seems to be.