"Rock Style" tips from my July 4th Chicago weekend at the Grateful Dead show plus the low down on Miranda Kenneally's latest rocker girl book JESSE'S GIRL.

TABLE OF CONTENTS: Grateful Dead rocker tank: Chaser tees; Acid wash cut offs: Forever 21; Gladiator sandals: Stuart Weitzman; Flower Crown: Amazon; Jewelry tattoos: Amazon
The best thing about attending legendary jam band The Grateful Dead's final show in Chicago? The fashion! I've been wanting to try out metallic jewelry tattoos forever and this was the perfect excuse. The company Flash Tat has some GORGEOUS choices but they are super pricey ($20 a pop) for just some temporary fun so I decided to use #1FashionTattoos instead because they look great and are half the price (and free shipping if you're on Amazon Prime). I totally love them and would definitely recommend! Of course, I also had to grab a flower crown — again Amazon has some great inexpensive options. I got mine from a company called Valdler for around $10 and was really happy with it. Finally, I splurged on my tank top from one of my absolute favorite tee-shirt brands Chaser. They're a little expensive but I just love the feel & look.
Rocking Reads: Miranda Kenneally's JESSE'S GIRL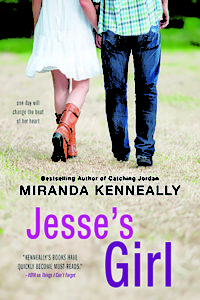 The folks over at Sourcebooks generously gave me an Advanced Review Copy of JESSE'S GIRL a few months back.
JESSE'S GIRL follows teen Maya, who wants to be a rockstar, as she learns what it takes to make it in the music business. It all begins at the Hundred Oaks High career mentoring day when Maya gets to shadow the Jesse Scott, Nashville's teen idol. But spending the day with Jesse is far from a dream come true. He's as gorgeous as his music, but seeing all that he's accomplished is just a reminder of everything Maya's lost: her trust, her boyfriend, their band, and any chance to play the music she craves. Not to mention that Jesse's pushy and opinionated. He made it on his own, and he thinks Maya's playing back up to other people's dreams. Does she have what it takes to follow her heart-and go solo?
I'm a big fan of Miranda Kenneally's YA contemporary romance novels and JESSE'S GIRL was no exception. It's a great fun read. You can find my full review over at my Examiner.com YA book news column. You can get your own copy of JESSE'S GIRL on Amazon or wherever books are sold.
Looking for more rocking reads and looks? Check out How To Book Festival. What are your favorite concert styles? Share them in the comments below!